acj
Maiden flight for the new Corporate Jet variant of the Airbus 320neo.
With deliveries of the ACJ320neo to begin in the coming months, Airbus Corporate Jets are looking to capture a significant slice of the narrow-body completions […]
AAC install a new CTT Systems CAIR™ cabin wide humidification system to an Airbus ACJ319 VIP aircraft
Airbus Corporate Jets offer new cabin for the ACJ319neo designed by Pagani Automobili
Airbus unveil a custom jet interior design concept for the forthcoming ACJ320 neo aircraft.
Jet Aviation Basel have deliver ACJ's to multiple European clients.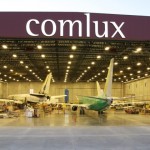 Comlux America has obtained the required qualifications to offer complete maintenance and repair services to ACJ, BBJ and Bombardier Business Aircraft customers. Comlux America was […]