On prominent display  at EBACE, Geneva, Lufthansa Technik display a Boeing 787 model with a transparent fuselage section to view the interior floor plan arrangement proposal and associated interior design.
Featuring dining, relaxation and personal bedrooms the Boeing 787 model displays incredible detail to provide onlookers and idea of how the interior of a Boeing 787 could be arranged.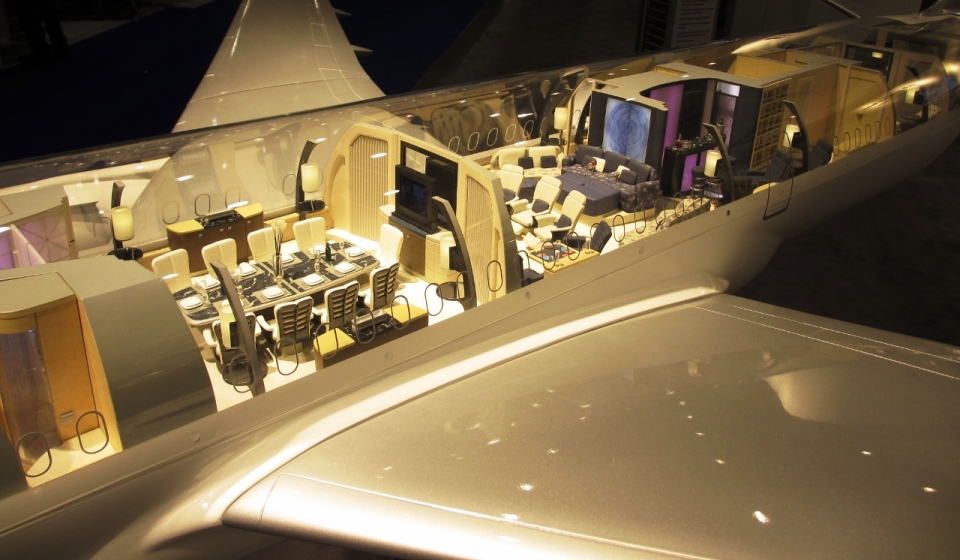 Additional news from Lufthansa at the show
Lufthansa are investing heavily for the future to position themselves for the large number of VIP completion & refurbishment aircraft both on and entering the global market.
As part of this investment Lufthansa have invested into innovation engineering capability at its base in Hamburg, Germany. The current fifty-five (55) person team will be boosted by seven additional positions, and further staff positions are foreseen to be required in 2014 and 2015.
New Basel facility
The team formed in 2008 has been responsible for the innovation and development of numerous new products, such-as the award-winning NiceView a unique moving-map system, to NiceMood LED lighting and the 'next generation' of VIP cabin seating.
Lufthansa Technik have also reported to have been busy in Basel, investing circa four million Swiss Francs in their previous MRO shop to develop a state-of-the-art cabin interior shop for cabin refurbishment and modification of VIP aircraft interiors for the Lufthansa Boeing and Airbus completion & refurbishment centre.
Lufthansa investment demonstrates the importance of Basel as a hub for VIP aircraft completion & modification, and companies such as Jet Aviation & AMAC both have facilities there capable of handling wide-bodies VIP aircraft.
Link: Lufthansa Technik VIP & Executive Jet Solutions
Lufthansa Technik – Boeing 787 VIP completion