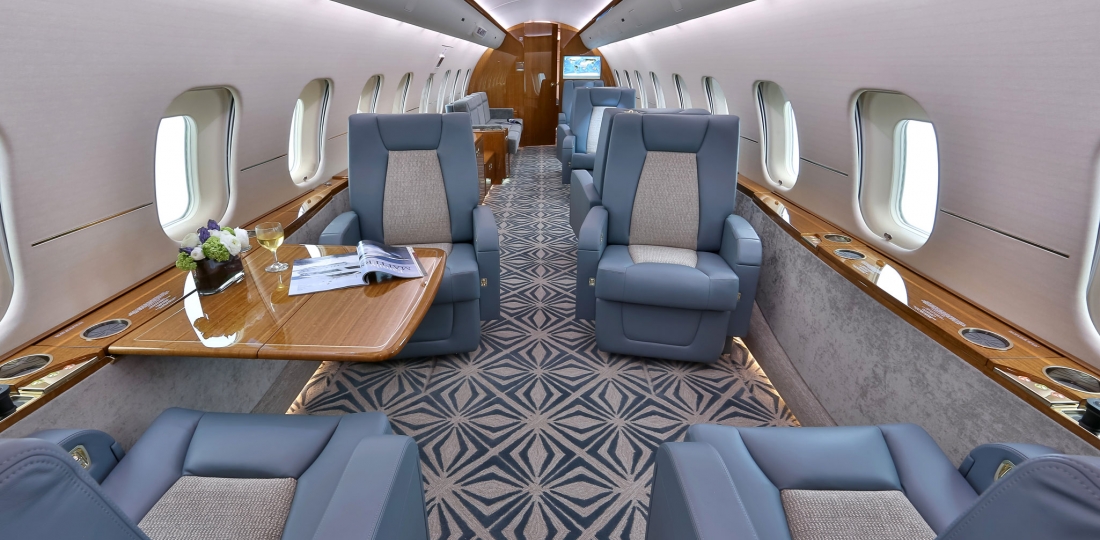 Jet Aviation's St. Louis facility has recently completed the refurbishment of a Bombardier Global 5000.
The aircraft was fitted with a Rockwell Collins Venue cabin management systems (CMS), as well as upgrade of the interior.
To-date the Jet Aviation team in St. Louis has now completed more than 25 Venue installations.
The refurbishment was part of a 120-month inspection for a Bombardier Global 5000 with the customer opting to have an extensive interior refurbishment; including a new CMS.
To-date the Jet Aviation team in St. Louis has completed more than 25 Venue installations, earning it the avionics and cabin systems manufacturers' crystal award as a 'superior performing authorized dealer'.
Designed with an Art Deco feel, the aircraft's new interior includes a custom silk and wool blend carpet; fully re-veneered cabinetry; a new galley; new granite countertops with real crystals; new seats with touchpad controls; replated hardware and new inlays for window linings and table tops.
The cabin has been fitted with a Venue CMS with iPad interfaces and SwiftBroadband connectivity with Satcom Direct's SDR Router and Global VT service.
To complete the refurbishment the aircraft had a completely new paint job.
With more than 35 FANS installations to date, Jet Aviation St Louis partnership with Rockwell Collins extends to the supplemental type certificate that it developed for the manufacturer's Future Airspace Navigation System solution for the Bombardier Challenger family of aircraft.
Jet Aviation has also been stepping up its work in installing Ka-band satellite communications equipment, including Honeywell's JetWave solution.
Jet Aviation St. Louis works a wide-range of business jets including all current Gulfstream models, as well as Embraer's Legacy and Lineage jets Boeing Business Jets, Hawkers , as well as Bombardier Global's.