In designing the Boeing 787 fuselage one of the main criteria that Boeing engineers set out to accomplish was designing a superior passenger environment for their commercial jet.
A large part of Boeing's efforts were focused around their design brief which resulted in shaping the airplane in a way that would enhance the cabin interior. As such what we see in the commercial variants of the Boeing 787 is a twin-aisle 9 seat wide arrangement, in 3 by 3 by 3 configuration.
The 'Double Bubble'
To achieve this Boeing design engineers created what has become to be known as the "double-bubble" fuselage – the effect of two circles of different diameter; one creating the lower portion of the aircraft fuselage for the cargo hold, and one creating the upper being the passenger environment.
The double circle "double-bubble" also allows provides one further benefit, the design allows for a straighter sidewall in the passenger environment, resulting in more enhanced comfort around outer window seats particularly around headroom and shoulder intrusion of the side wall and therefore cabin comfort overall.
Boeing Business Jet
This design is also great news for BBJ customers purchasing the 787 in either dash variant; in essence the overall package providing enhanced performance from advance materials, plus a larger comparative cabin environment without the trade-offs in performance; range, speed and fuel burn.
We fee; the 787 is set to become a firm choice favourite for twin-aisle large aircraft VIP, Corporate and Governmental aircraft completions, what really else do you need from a large aircraft?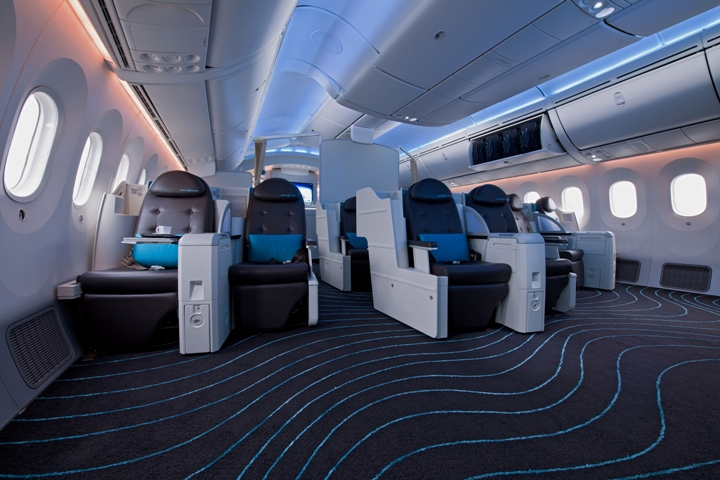 Boeing 787 Specification
Brief Description:
The Boeing 787-8 Dreamliner is a super-efficient airplane with new passenger-pleasing features. It will bring the economics of large jet transports to the middle of the market, using 20 percent less fuel than any other airplane of its size.
Seating:
210 to 250 passengers
Range:
787-8 = 7,650 to 8,200 nautical miles (14,200 to 15,200 kilometers)
787-9 = 8,000 to 8,500 nautical miles (14,800 to 15,750 kilometers)
787-10: = 7,000 nautical miles (12,964 kilometers)
Configuration:
Twin aisle
Cross Section:
226 inches (574 centimeters)
Wing Span:
197 feet (60 meters)
Length:
787-8 = 186 feet (57 meters)
787-9 = 206 feet (63 meters)
787-10 = 224 feet (68 meters)
Height:
56 feet (17 meters)